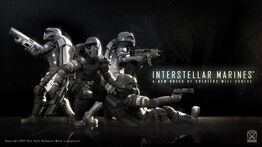 Interstellar Marines is a upcoming First Person AAA Indie Shooter made by Danish video game developer Zero Point Software.
Interstellar Marines, formerly called Project IM, focuses on enhancing immersion, making the player see the game's world from the eyes of the character and blurring the distinctions between game and reality; the aim is blurring the distinctions between game and reality.
Interstellar Marines will feature a four player cooperative campaign; this coop experience will be enhanced by a system called Real Time Voice Porting as well as by several ways of character specialization, thus giving every player a certain role within the team.
Ad blocker interference detected!
Wikia is a free-to-use site that makes money from advertising. We have a modified experience for viewers using ad blockers

Wikia is not accessible if you've made further modifications. Remove the custom ad blocker rule(s) and the page will load as expected.